Used SU's Rockability Paper
MM Felt Letters
MM Die Cut Journal Pce.
MM Brads
Prima Flowers
SU Basic Black Ink
Threading water punch
Zig Writer for journaling
(I am quite amazed I can remember this info!) LOL!!!
Okay .. i DO know that ...
this is ....my beautuiful
DD Barbara - 12 yo
~Beautiful One~
My beautiful girler was SO happy & excited when Ivan Jr was being born! She was lovin' the fact that she is going to be an Aunty :D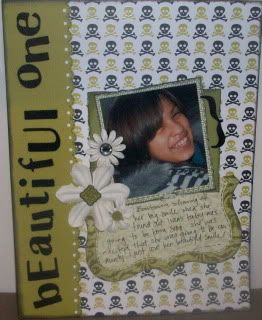 Thanks for dropping by to see what I have been up to!
Lillian